By Joanie Cox-Henry
Imagine having endometriosis excision surgery and needing no downtime.
That's the reality for Dr. Mona Orady's patients. The San Francisco-based OB-GYN specializes in mini-laparoscopy. Instead of using instruments with a circumference of 5 to 12 millimeters, she uses 2 to 3-millimeter tools to excise endo. For many women who undergo traditional laparoscopic excision surgery or robotic excision surgery, recovery can vary from days to weeks to months, depending on the extent of the procedure. "In terms of recovery, it's a game-changer because it means there's no restriction to physical activity post-op," says Orady, 39. "Most people are back to work in a day or two. Most patients have no visible scars. It's not much bigger than putting a needle through the abdominal wall." Her technique is so popular she says her patients fly in from around the world to have surgery with her.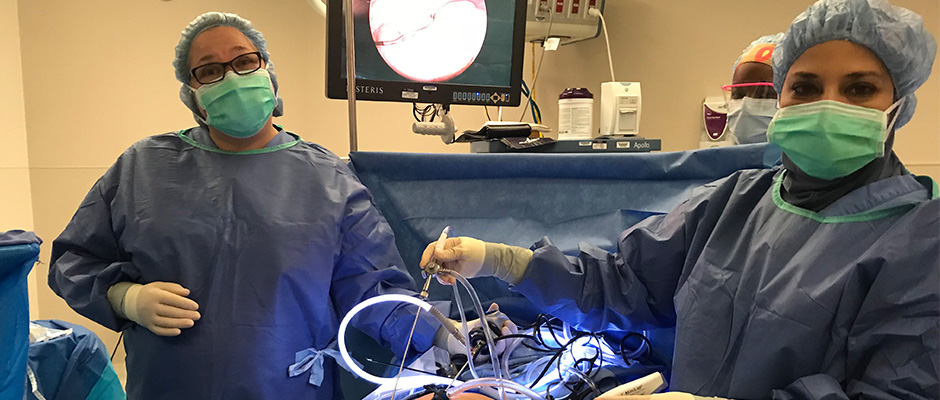 Above, Orady (right) operates on a patient with her mini-laparoscopy technique.
She recently treated a Cirque du Soleil performer who needed to get a large ovarian cyst removed a mere ten days before opening night of a show. Her scars looked like tiny freckles. "We did mini-laparoscopic surgery on this acrobat," Orady says. "With the incisions, only two to three millimeters, [she] didn't require any downtime; so that's what we did."
Working with thinner instruments, however, is no easy feat. "Because my instruments are smaller, the surgery does take a little bit longer, and it requires more skill, but the patient recovers in an hour. You have to be more steady and gentler. It's like painting with a feather, but to me, it's completely worth it."
Orady is used to bucking trends. She was nicknamed "Doogie Howser" by her peers after entering medical school at the tender age of 18. Back then they doubted whether or not a covered Muslim woman would go far in the medical field. Today, she spends much of her time traveling the world to teach other surgeons the techniques and benefits of mini/micro-laparoscopy. She recently taught a three-day course at a military hospital in Honolulu to help female soldiers with endometriosis who needed surgery but couldn't afford to have six weeks of downtime for recovery.
"Women are suffering," says Orady. "Twenty percent of women have a menstrual disorder. All women are going to have a problem with their period during their lifetime at some point, and it's usually more than one problem. Yet, nobody focuses on that." Orady believes that early diagnosis and early treatment of endometriosis is key. Her youngest patient for minimally invasive surgery was just 16.
"For younger patients who don't even know if they have endometriosis, you put a two or three-millimeter camera in their belly button, and you can know the answer right away and treat it right then and try to get rid of it right at the beginning before anything becomes really bad later on. When people are younger, in their twenties, they typically just have the endo, and then in their thirties, the adenomyosis comes on, and fibroids start showing up after that. By the time someone is in their mid-thirties, usually, they have the triple whammy, which is all three. You have to treat each of these individually."
Modern medicine aside, Orady finds simply listening to her patients allows for a more accurate diagnosis. "I have been a patient and know the feeling of not being listened to. The tragedy is just women thinking 'Oh well this is my life' and thinking suffering on your period is normal or that it's just part of being a woman. It's not right. And it's definitely not normal."